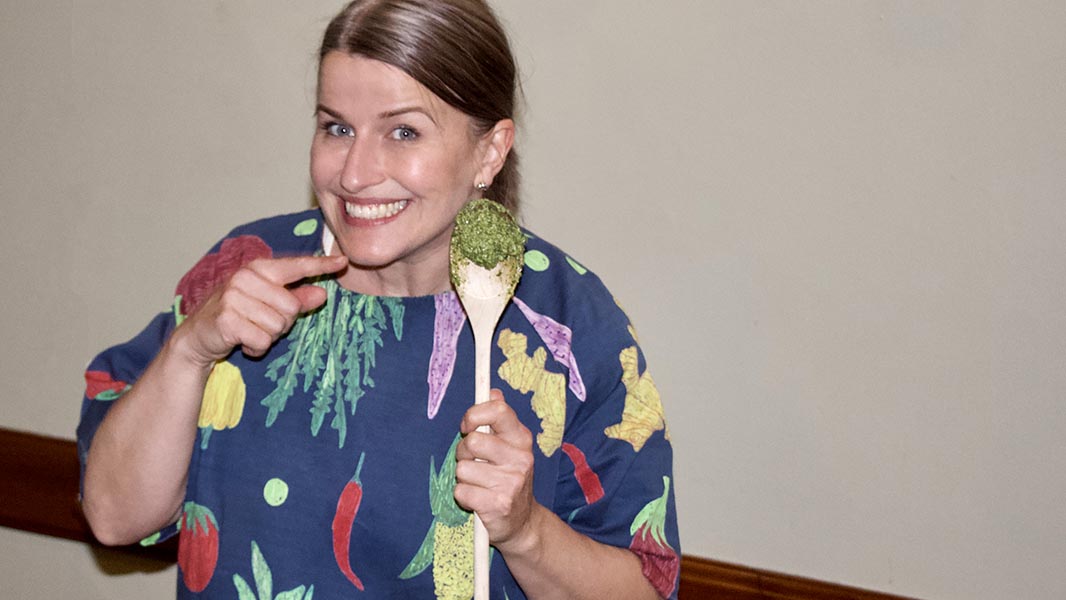 World Environment Day 2018
Carrot top pesto and roasted carrots
I love making carrot top pesto. I feel like I get so much value for money when I make this and it is so delicious. I love that I can make a side dish out of parts of a vegetable that so often gets thrown out! I dare you to try it too!
Ingredients:
Bunch of organic carrots with fresh fluffy tops (you will need about 1 ½ cups of carrot tops)
¼ cup toasted Australian walnuts
2 small garlic cloves (Australian grown please)
¾ cup shredded parmesan
¼ cup (maybe more) of extra virgin olive oil
lemon juice to taste
freshly ground pepper, to taste
optional – a few mint leaves from the garden
extra olive oil and salt for roasting the carrots
 
Method:
1. Preheat the oven to 180 degrees celcius
2. Wash the carrots and chop the tops off the carrots, leaving about 1 cm of the stalk on the carrot.
3. Place the carrots into a baking tray and drizzle with olive oil and season. Roast until tender – about 20-30 minutes.
4. To make the pesto, place the carrot tops, walnuts, garlic and parmesan into a food processor and blitz until finely chopped. Add the oil until you get to your preferred consistency
5. Taste and balance with lemon juice and extra salt if required (depending on how salty the parmesan is). You may not need salt at all.
6. Remove carrots from the oven and drizzle with the carrot top pesto and serve. I am still amazed by how good this is!
Nut free, egg free and dairy free Muesli Bars
The muesli bars not only taste delicious but they tick heaps of sustainability boxes. They hold their shape and are quite robust, so don't need to be wrapped in the lunch box. They are also nut free and egg free so can be safely brought into schools. Use organic ingredients where you can.
Ingredients:
50g unsalted butter
½ cup raw sugar (or rice malt syrup)
¼ cup golden syrup (or honey)
¾ cup pumpkin seeds
¾ cup sunflower seeds
2 tablespoons chia seeds
1 weetbix or vitabrits, crushed
½ cup rolled oats
½ cup plain flour
½ cup finely chopped dried fruit (I like apricots, but what ever you have in the pantry).
 
Method:
1. Preheat the oven to 170C/150C fan forced. Line a 20cm square pan with baking paper.
2. Place butter, sugar and syrup in a saucepan and stir over moderate heat until the sugar dissolves..
3. Combine all of the dry ingredients (seeds, cereals, flour and fruit) mix well until all of the ingredients are combined.
4. Combine the wet and dry ingredients and mix well until all combined.
5. Press the mixture evenly into the prepared tray.
6. Bake for about 25 minutes or until just golden.
7. Cool in tray (almost completely), and cut into bars in the tray. Store in an airtight container.
 
This recipe makes about 14 bars and are delicious!
Banana, Oat and Chocolate Bars
This is a nut free ripper recipe for lunchboxes. It does however contain egg.
Ingredients
230 g ( 2 ½ cups) rolled oats
80g (1/2 cup) seeds (can be a mixture of sesame, pumpkin, sunflower or pine nuts – what ever you have in the cupboard. Don't just use all pine nuts though)
50g (1/3 cup dried cranberries (or currants)
1 tablespoon linseeds
½ tsp cinnamon
60g (1/4 cup) coconut oil
100 g (1/4 cup) rice malt syrup (or maple syrup)
2 ripe bananas – mashed
1 egg
45 g no added sugar dark chocolate – melted.

Method
1. Preheat the oven to 180°C/160°C fan forced. Line a 16 x 26cm slice pan with baking paper, allowing the sides to overhang.
2. Combine the oats, seed mix, cranberries, linseeds and cinnamon in a large bowl and make a well in the centre.
3. Combine the coconut oil and rice malt syrup in a microwave-safe jug. Microwave on Medium for 1 minute or until melted and smooth. Cool for 2 minutes.
4. Add coconut oil mixture, banana and egg to the well. Stir until just combined. Spread over prepared pan. Bake for 35 minutes or until firm to touch. Cool in pan for 10 minutes. Transfer to a wire rack to cool completely.
5. Cut into 16 triangles. Drizzle with the melted chocolate and set aside to set. Store in an airtight container in the fridge for up to 5 days.
Roasted Radishes with their Tops
Like most root vegetables, the tops of radishes are delicious. Here you simply toss the tops of the radishes through the lightly roasted roots. The roots take on a soft creamy texture and the tops a fresh punch.
Ingredients:
1 bunch radishes
extra virgin olive oil
a knob of butter
salt
freshly ground pepper
small squeeze of lemon

Method:
1. Cut the tops off the radishes and wash the radishes and the tops thoroughly to remove all of the grit. Cut the radishes in half, lengthways.
2. Heat the oil in a skillet with a little butter. Place the radishes into a pan, cut side down. Saute the radishes until the cut sides start to caramelize. Season and turn over and place the whole skillet into an oven and roast at 160C for 15 minutes until the radishes are soft.
3. Remove from the oven and toss in the radish tops and put back on the stovetop. Toss the tops with a little more butter and a squeeze of lemon. Taste and season and then serve immediately.
BBQ Octopus
Octopus is classified as a good choice under the www.goodfishbadfish.com.au guide. Octopus is a fast growing, short lived species, thought to be able to withstand current fishing pressure. Australian Octopus is a preferable choice to imported octopus and baby octopus, which may come from fisheries with questionable environmental practices.
Ingredients:
1.8-2 kilos of octopus ( about 3 medium sized, cleaned)
1 bottle of white wine
½ cup red wine vinegar
3-4 bay leaves
1 teaspoon fennel seeds
6 peppercorns
Marinade
½ cup extra virgin olive oil
¼ cup balsamic vinegar
a few tablespoons of good quality dried oregano
2 cloves Australian garlic, crushed
chopped chilli – optional

Method:
1. Place octopus in a large saucepan and add the wine, red wine vinegar, bay leaves, fennel seeds and pepper corns. Add in extra water to cover the octopus. Bring to the boil and simmer until tender – about 1 hour to 1 ½ hours.
2. When the octopus is tender, turn off the heat, remove the octopus from the liquid and set aside.
3. Mix the marinade ingredients together and add to the drained octopus, ensuring the all of the octopus is covered with the marinade. You can now place the octopus in the fridge until cooled (you can leave over night if required).
4. When ready to serve, heat a griddle pan or the BBQ to hot and ensure it is well oiled. Place the octopus on the pan and cook until caramelized. Flip the octopus over and repeat on the other side. This whole process should only take a few minutes.
5. Remove from pan, squeeze some fresh lemon juice over the top, and drizzle with your best extra virgin olive oil and extra salt and pepper, if needed.
6. Serve with a fresh salad and crusty bread.
Crispy Skin Mullet with a simple pickled zucchini
Mullet is a great fish choice. Mullet are a short lived, fast growing fish with robust stocks. They are caught by localized fisheries using target specific netting methods. They are cheap and delicious – try them!
Ingredients:
1 mullet, filleted (you may want more here)
¼ cup rice flour
salt
freshly ground pepper
Simple Pickled Zucchini
1 zucchini
extra virgin olive oil
red wine vinegar
salt
freshly ground pepper

Method:
1. Slice the zucchini into strips. Season with salt and pepper and pan fry in oil until starts to brown. Remove from pan and then sprinkle over the red wine vinegar to cover. Set aside.
2. Cut each mullet fillet into two pieces.
3. IN a separate bowl combine the rice flour and salt and pepper. Dredge the fish fillets in the seasoned rice flour.
4. In a medium pan, heat about ¼ cup olive oil on a medium heat. Place the mullet fillets, skin side down and cook for about 3-4 minutes until the skin is crispy and the fish is almost cooked through. Flip the fish over, cook for another 30 seconds and immediately remove from the pan.
5. Serve with pickled zucchini.
Lemon Curd Pavlova
Often, when making pavlova, you can find you have an excess of egg yolks. Why not incorporate them into a pavlova and make a lemon curd and raspberry pavlova. The lemon curd uses up all of the egg whites and combined with raspberries is a flavour sensation. This also works extremely well in a roulade.
Ingredients:
4 egg whites
225g caster sugar
2 teaspoons corn flour
1 teaspoon white vinegar
1 teaspoon vanilla extract
Method:
1. Preheat the oven to 150C conventional (not fan forced).
2. Whisk the egg whites together until soft peaks start to form. Add in the caster sugar, a tablespoon at a time initially until all combined. Keep on whisking until all of the sugar is fully dissolved and can barely be felt when you rub the mixture between your fingers.
3. Add in the corn flour, vinegar and vanilla and whisk gently to combine.
4. Scoop the glossy mixture out onto a lined baking tray and make a pavlova shape. I personally like to make a nest.
Pop the pavlova into the oven and then turn the oven down to 120C. Bake for 1 ½ hours. Once cooked, turn the oven off and let the pavlova cool completely in the oven. Pop a wooden spoon in the door to keep ajar to ensure moisture does not build up.

Lemon Curd
Ingredients:
4 egg yolks
2/3 cup caster sugar
60g unsalted butter
2 tsp grated lemon zest
100ml lemon juice
Method:
1. Whisk egg yolks and sugar until well combined but not frothy.
2. Pour into a saucepan and add the butter, zest and juice.
3. Bring to simmering point over a medium-high heat, whilst stirring constantly. This will take about 5 minutes.
4. As soon as bubbles appear, remove from the heat, still stirring. Pour into another bowl and allow to cool.
To construct the pavlova, whip some cream and smear all over the pavlova base. Swirl some lemon curd onto the top of the cream. Sprinkle liberally with raspberries and serve with love x